Tweet
Storing Up Treasures is one of my favorite blogs. That shouldn't be a surprise since I've had the blog button posted on my sidebar for a few months now. The biggest reason I enjoy Courtney's blog is because of the honesty and the vulnerability in her writing. It truly feels like she is chatting with you, her dearest friend, over coffee. There doesn't seem to be a whole lot I have in common with her or her life on the surface (well, if you count our four-legged children as part of the family - maybe), but I find the story of her & her family compelling and, oftentimes, inspiring. I don't always agree with her point of view but I respect the way she presents her beliefs and often find myself thinking more deeply about my own beliefs & values.
Courtney has set aside a list of interesting blogs from which she will choose a featured blog each month.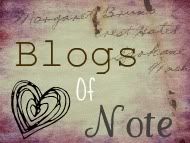 Her "Blogs of Note" inspired me to set aside a special area to showcase some of our favorite blogs. Take a minute to check out Storing Up Treasures and some of Courtney's Blogs of Note.
As of this posting, our separate list of blogs is still under construction.